BEIJING -- Top-seeded Novak Djokovic beat David Ferrer of Spain 6-2, 6-4 on Monday to successfully defend his China Open title.
The world No. 2 cruised through the first set of a match that had been rained out Sunday, before falling behind 4-2 in the second.
At 4-3, the eighth-ranked Ferrer battled to hold serve and defend his lead, but Djokovic was relentless, breaking him to take the set and, two games later, the match.
"I started off really well but then I lost the momentum, I kind of lost the rhythm, got him back into the match with some unforced errors," said Djokovic, who converted four of six break points while being broken only once to wrap up his second title of the season.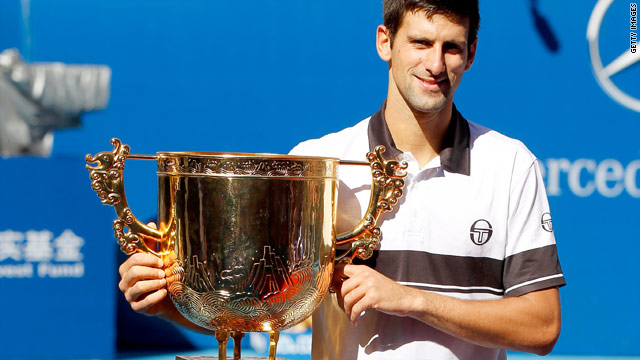 "It wasn't a really nice looking match from both sides. We made a lot of unforced errors, especially him. He made my life a little bit easier at the end of the second set, where, with his unforced errors, I got back into the set," the Serb said.
Djokovic, runner-up at last month's U.S. Open, said he was pleased with his improved serve, which he says is largely responsible for the run of success he's experienced since Wimbledon.
The 23-year-old had somewhat more difficulty accounting for his success in Beijing, where he won the Olympic bronze medal in 2008 in addition to his back-to-back China Open titles. The playing surface -- and the local cuisine -- seem to suit his style of play, Djokovic said.
"There's something special about this place."
Djokovic now moves on to the ATP Masters in Shanghai, where he will face either Ivan Ljubicic of Croatia or Chinese qualifier Zhang Ze on Wednesday.
"This is definitely a confidence boost for me. The last two, three months ... feeling much more comfortable and confident on the court, playing the aggressive game and service is working for me which is a great thing to have," he said. "Let's see if I can keep it up. Energy-wise, I'm fresh."
Ferrer has less time to rest with a match against Frenchman Michael Llodra in Shanghai on Tuesday. He also pointed to the eighth game of the second set as having decided Monday's match.
"I had my chance there, but didn't do it," said the 28-year-old, who entered the final after beating Ljubicic in three sets in Saturday's semifinals. "Maybe when I lost this game, I lost a little bit my concentration and couldn't come back and play regular again."
New world No. 1 Caroline Wozniacki plays No. 3 Vera Zvonareva later Monday for the women's title. Zvonareva has won three of their previous five meetings.